Skagerrak A1 Service AB
Trädgårdsgatan 3-5 45231 Strömstad

Tel +46(0)526 15140
Fax +46(0)526 15148

Till salu
Atomix RHIB 500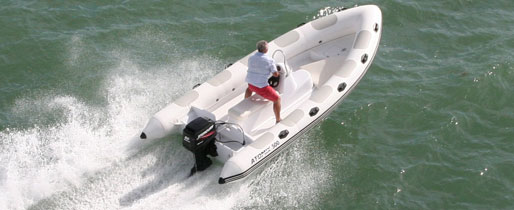 Atomix RHIB 500 (Centre Console)
Atomix Boats proudly launched its new Atomix RHIB 500 at the Auckland International Boat Show. This little beaut comes form the same design stable as its bigger brothers in the 820 series, and as a result handles superbly. It's wider than most comparable RHIB's with a beam of 2.30m - so there's much more room for family, friends and gear! With the 60HP Mercury Big Foot outboard, the RHIB 500 really moves so you can get out and about and home again at pace.
Key Features:
Loa - 5.05m
Beam - 2.30m
Weight - 360 kg
Designed by Bakewell - White yacht Design
Construction - GRP hull
Warranties - Hull 5 years, Tubes 2 years, Engine as per manufacturer
Engine - Mercury 60 HP Big Foot
Fuel tank - 80 litre under floor with 25 litre Tote Tank
Anchor Guide
Anchor Locker with Hinged Hatch
Spray Deflector Strip
Bilge Pump
Self Draining Deck
5 Seperate Inflatable Chambers for Added Safety
Ski Pole or Hoop with Rod Holders
Keel Rub Strip
Stern and Bow Eyes for Towing and Lifting
Includes Multi-Roller DMW Trailer
Ideal - fishing, family fun boat. Large boat tender.
Generalagent: Atomix Boats Sweden AB, Helsingborg
Återförsäljare: Skagerrak Marine Service AB, Strömstad
Leverans i augusti 2007. Boka provtur! Begär offert!
Skagerrak S-71 - Classic DayCruiser

Klassisk stabil, öppen daycruiser typ Limestone & Bertram. Ruff under fördäck med 2 kojer. Stor öppen durk lämplig för dykare, last eller fisketurer. Längd=7.15m, Bredd=2.45m, Vikt 1500kg. Fart=35knop med VPAQ211 och VP 290DP. Byte? Utan motor 200.000.
Pris SEK:
199.500

:-

Återförsäljare: Skagerrak A1 Service AB, Strömstad
Boka provtur! Begär offert!
---
Vi Båtägare har testat Skagerrak 571
Artikeln är gjord av Anders Vaerneus & finns med i nr 3-2006.
---